Otago, New Zealand
Meehan, Gleeson, McWilliam, Douglass, Carmichael, Wilson, Baumgardt, Forbes, Thompson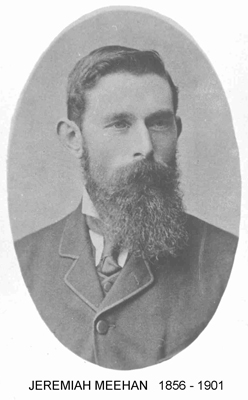 Log In | Register for a User Account
Hello and Welcome, My name is Paul Meehan and I live in Otago, New Zealand. I have been interested in my family history for quite a few years and decided in December 2014 to share the details I have gathered on this website. Details of living individuals will not be available. I can however provide information that I have for living people on request.
I feel that the best way to preserve this information is to share it around and the best way to add information is to request input from any interested parties. The details I have are generally just names and dates without too much other information. I hope to add photos and other documents as I become more confident with this website. I have chosen to make all the information on deceased persons freely available to anyone who is interested as this is generally a matter of public record. Logins, passwords, user account, or payment are not required. If you have enquiries about living persons, please email me. Please also email me if you find errors or have any additional information. You can also email me if you would like to receive a gedcom file - I can email these to trusted individuals if requested.
This project started out as a record of my Meehan heritage but of course this name is just one small part of my ancestry. I am equally interested in the families of all of my eight great grandparents so I intend to structure the site with starting points for each of them. All of these ancestors arrived in New Zealand from Europe by sailing ship between 1858 & 1883;
MEEHAN
From Banna Strand, near Ardfert, County Kerry, West Ireland, three Meehan brothers and a sister emigrated to New Zealand.
Jeremiah sailed to New Zealand with his brother John aboard the "James Nichol Fleming" arriving at Port Chalmers 4th August 1875. Jeremiah was a single tradesman aged 19 years at the time and John was about 25 years. (Jeremiah was apprenticed in August 1872 as a collar and harness maker in Tralee, County Kerry). Timothy and Catherine had travelled separately. Jeremiah married Elizabeth Gleeson at Oamaru on 9 July 1891.

GLEESON
Elizabeth Gleeson was a single skilled woman of 22 years when she sailed alone from Cobh, the port of Cork, County Cork, Ireland aboard the vessel, "Dunedin" in 1880.
McWILLIAM
John McWilliam came to New Zealand alone from Scotland around 1859. He purchased 105 acres at Moeraki in 1861 and married Barbara Douglass, daughter of Archibald Douglass on 7th March 1862. Their son Archibald married Jane Parkinson Carmichael, daughter of Peter Carmichael.
DOUGLASS
Archibald Douglass, from Perthshire, Scotland, arrived at Port Chalmers aboard the "Strathfieldsaye" on the 29th of April 1858 with ten of his children. His wife, Amelia had died aboard the ship one month into the three month voyage. Their daughter, Barbara, married John McWilliam.
CARMICHAEL
Peter Carmichael and Anna Dorothea Becker were married in Glasgow on 17 March 1851 and sailed to Port Chalmers aboard the "Pladda", arriving 20 August 1860 with three children. A son, Peter, had died a month before arriving at 2 years of age. They went on to have six more children in New Zealand.
WILSON
David Wilson arrived in New Zealand from Scotland about 1883 at about the age of 6 years with his mother, Mary. David married Julia Baumgardt on 21 December 1900.
BAUMGARDT
Paul & Eva Baumgardt emigrated from Poland aboard the "Palmerston" which departed Hamburg on 29 July 1872. They arrived at Port Chalmers on 6 December 1872. Subsequent generations have anglicised the surname to BUNGARD.
FORBES
Alexander Forbes was born in Inverness, Scotland in 1842 and arrived at Port Chalmers in October 1869 by the ship "James Nichol Fleming". He married Sarah Morgan on 4 January 1878.
THOMPSON
John Thompson and Mary Jane Hogg were married in County Antrim, Ireland and emigrated to New Zealand both aged 24 years with their 5 month old son aboard the "White Eagle". After arriving at Port Chalmers on 8th November 1876 they settled in North Otago and had a further four children.
Contact Us

If you have any questions or comments about the information on this site, please contact us. We look forward to hearing from you.